YOUR TAX DOLLAR BEING DROPPED OUT OF PLANES
Your Tax Dollars Falling From The Sky - YouTube
As we near the day when we must all file for our income taxes realize that your tax dollars are literally being dropped out of planes as you read this - and it is being dropped over 8,000 miles away
Yesterday story broke about the US Dropping 500 Bombs per day week on the city of Mosul, Iraq. At this rate - and we have kept this up for over 15 years now - that is around:
500 X 52 = 26,000 bombs per year
26,000 Bombs X 16 years = 390,000 Bombs.
So what exactly does it cost for one bomb???
Well - the Basic Costs include:
Bomb MK2 - $2,000 + delivery costs plus explosives = $20,000
Cost to operate a carrier group to launch the planes: $8 Billion a year - or $22 Million per day. That's about right - not to mention the building costs of a fully stocked carrier group at around $35 Billion Dollars.
So given 9 working Carrier Groups we need a new one about every 3-5 years.
Cost to fly an F-15 carrying 4 bombs - $41,000 per hour - or around $29 Million Per Year to fly and maintain one F-15 fighter - not to mention the NEW cost of an F-15 fighter with all the upgrades at around $100 Million a piece.
Cost for an J-Dam conversion kit to put fins on the bomb - $20,000
New High Tech Bomb AGM-130 Optical Guided Bomb with special rack - about $1 Million Dollars a piece - including the BRU-55 Special Rack at $81,000 a pop plus $130 Million Dollar Development Cots - what you saw dropped in the video.
Overall YOU pay about $1 Million Dollars for each bomb dropped over seas.
Lets see - at 500 Bombs per day - $500 Million Dollars per week in bombs just being dropped in Mosul alone - not including Aleppo, Syria, Lebanon, etc.
About 26,171 bombs being dropped per year - that we know about - that's around $26.171,000,000 of your tax dollars being dropped out of planes every year.
We are not even including the destruction of OLD bombs - which sit in Bunkers until their expiration date and are then dismantled or blow. This
Since 2001 - that runs around $418 Billion just for bombs.
So what is our return???
Yesterday 6 ISIS leaders were killed after the US dropped 600 Bombs.
For $600 Billion the US killed 6 ISIS fighters.
SIX
You have to feed that Military Industrial Complex.
Perhaps we should reconsider this insane war in the Middle East - that has cost America, by some estimates, over $10 Trillion Dollars since the initial invasion of Iraq in 1991 by then President George Bush.
As for the $600 Billion Dollars a Year military Budget - what a joke.
Based on why I have seen In budgeting in the military - try $2 Trillion Dollars a year.
Add another $6.7 Trillion Dollars to our Secret Space Program.
Of course - this kind of Funny Money is paid by increasing the costs of goods at around 6-10 Percent per year. Over the last 6 years the average grocery store bill has risen about 19% per year.
Is it any wonder a 5 cent pop in 1967 now costing around $1.50 - 30 times higher than 50 years ago.
In 1977 - I earned $10 an hour and the Business paid all Social Security and taxes - so I brought home $10 an hour.
Coffee was 25 cents a cup, free refills.
A Thrifty Drugs Ice Cream Cone was 15 cents
A gallon of gas was $1 Dollar
Rent was $150 a month - so worked 15 hours and could pay rent.
Can you buy 40 cups of coffee for every hour you work today, or 10 gallons of gas???
Your money is literally being dropped for planes
Doesn't that just blow your mind.
=========================
----SAVINGS TIP OF THE DAY----
Kind of hard to imagine saving money after you just saw the numbers above.
However - if you are old or disabled - go to Your Local County Assessor and see if you qualify for reduced property tax rates.
Then go to your city and see if they will insulate your house or install a heat pump for free.
===========================
Please pray that these wars stop now and that those demanding these wars are immediately immobilized for life - flattened.
=========================
The News You Need
Dr William B. Mount
US Dropping 500 Bombs Per Week on Mosul
Mosul Iraq, the latest Mosul news
$600 MILLION DOLLARS IN BOMBS KILLED - 2 IS IS LEADER IN MOSUL????
AIRSTRIKES IN KIRKUK KILLED 6 MORE???
SOMETHING IS NOT RIGHT?????
Six IS leaders killed in airstrikes southwest of Kirkuk - Iraqi News
Airstrikes kill 3 IS leaders in Mosul, 2 suicide attackers shot dead - Iraqi News
Operating costs per hour for USAF planes | Outrun Change
How much does it cost to build and to maintain one aircraft carrier? - Quora
Dropping bombs on ISIS in Mosul - YouTube
mosul before and after us bnombing - Google Search
Why Did the US Drop 26,171 Bombs on the World Last Year? | The Nation
WHAT WAS A HOSPITAL IN MOSUL IRAQ - BUT YOUR TAX DOLLARS DROPPED OUT OF PLANES DESTROYED IT.
FUNNY - GOOGLE EARTH SHOWS THIS BUILDING UNTOUCHED. THINK WE ARE BEING LIED TO????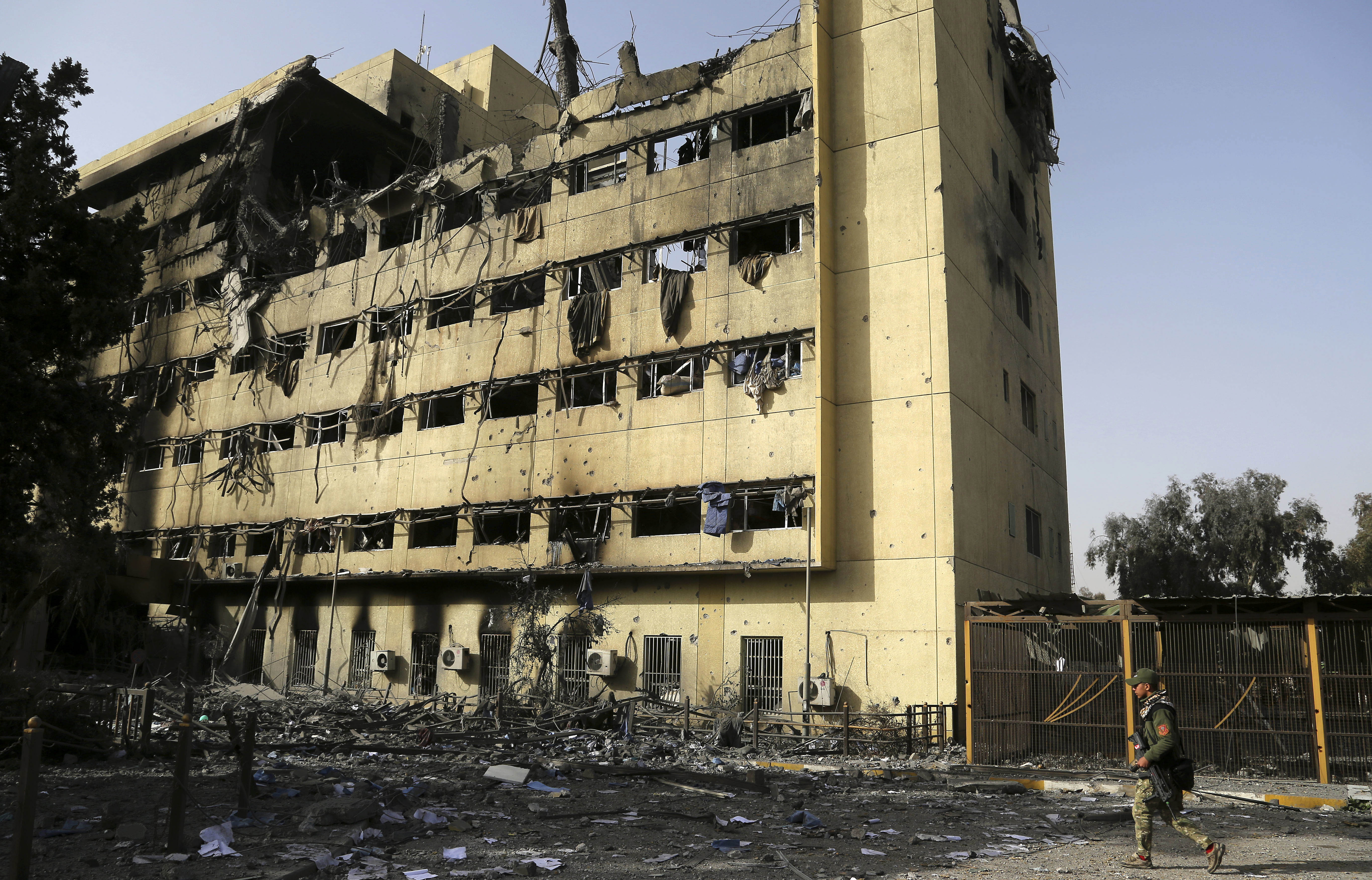 US Dropping 500 Bombs Per Week on Mosul
AGM-130 - Wikipedia
COST TO PRODUCE, ARM AND DELIVER - ALONG WITH THE SPECIAL RACK INSTALLED ONTO JETS - - $750,000.
Mark 82 bomb - Wikipedia
COST TO BUY, ARM AND DELIVER INCLUDING LAUNCHING PINS, FINS, AND GUIDANCE SYSTEM: $200,000.
THE MORE ECONOMICAL BOMB:
A TAIL FIN ATTACHED TO THE MK82 BOMB
THERE GOES $45,000,000 OF YOUR DOLLARS......
US sent plane with $400 million in cash to Iran - CNNPolitics.com
OH - AND DO NOT FORGET ABOUT THE FREE MONEY THE US JUST GAVE TO IRAN
ANY NATION CRAZY ENOUGH TO ATTACK THE US WITH PRESIDENT TRUMP IN OFFICE WILL SIGN THEIR OWN DEATH WARRANT - THIS MAY INCLUDE POLITICALLY AS WELL.
AS FOR THE ELITES ATTACKING PRESIDENT TRUMP - GOOD BYE
=========================
PS - DINAR TO REVALUE TONIGHT - APRIL FOOLS.